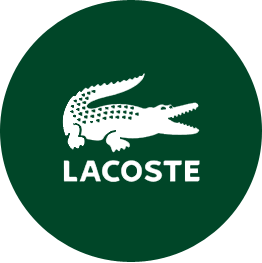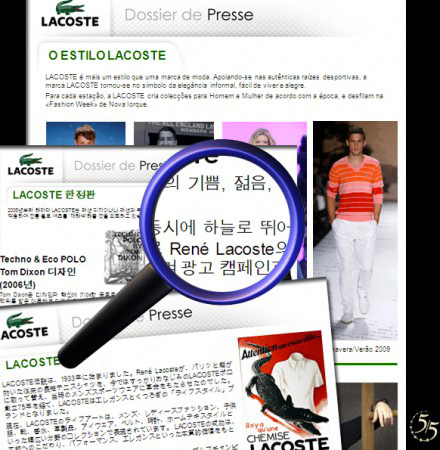 Introduction
With its authentic sporting roots as a basis, today LACOSTE represents a unique modern lifestyle of high quality in a large range of products for men, women and children featuring leisure and sports clothing, shoes, fragrances, leather goods, sunglasses, watches, household linen, belts and mobile phones. LACOSTE S.A., which owns one of the most well-known brands internationally, had a turnover of 1.5 billion Euros in 2008. In the 113 countries where the brand is present, two Lacoste products are sold every second in more than 1050 LACOSTE boutiques, more than 2000 stores-within-a-store in department stores and a selective distribution network.
LACOSTE is more a style than a brand and has become the symbol of relaxed elegance.
Challenge
Translation for collections shown on the website, www.lacoste.com from English to Brazilian Portuguese, Czech, German, Spanish, French, Hindi, Croatian, Italian, Japanese, Korean, Dutch, Portuguese, Russian, Slovenian, Thai, Greek, Turkish, Ukrainian and Chinese. Adherence to brand-specific terms and management of characters for Internet displays.
Other work: Translation of the press release for the brand in German, Portuguese, Japanese, Korean, Chinese, Russian and Italian + annual updates for certain headings. Translation of the report on the activity of the Fondation René Lacoste into American English. Translation of press releases, FR>EN and EN>FR.
The 5/5 response5
Overwriting of source files
25 collaborators
21 languages
5 sur 5 has been able to adapt to our translation requirements for several of our communication media such as the website, the press release for the organisation and the press communiqués. We are very satisfied with our collaboration, both for the responsiveness and for the quality of the work produced."